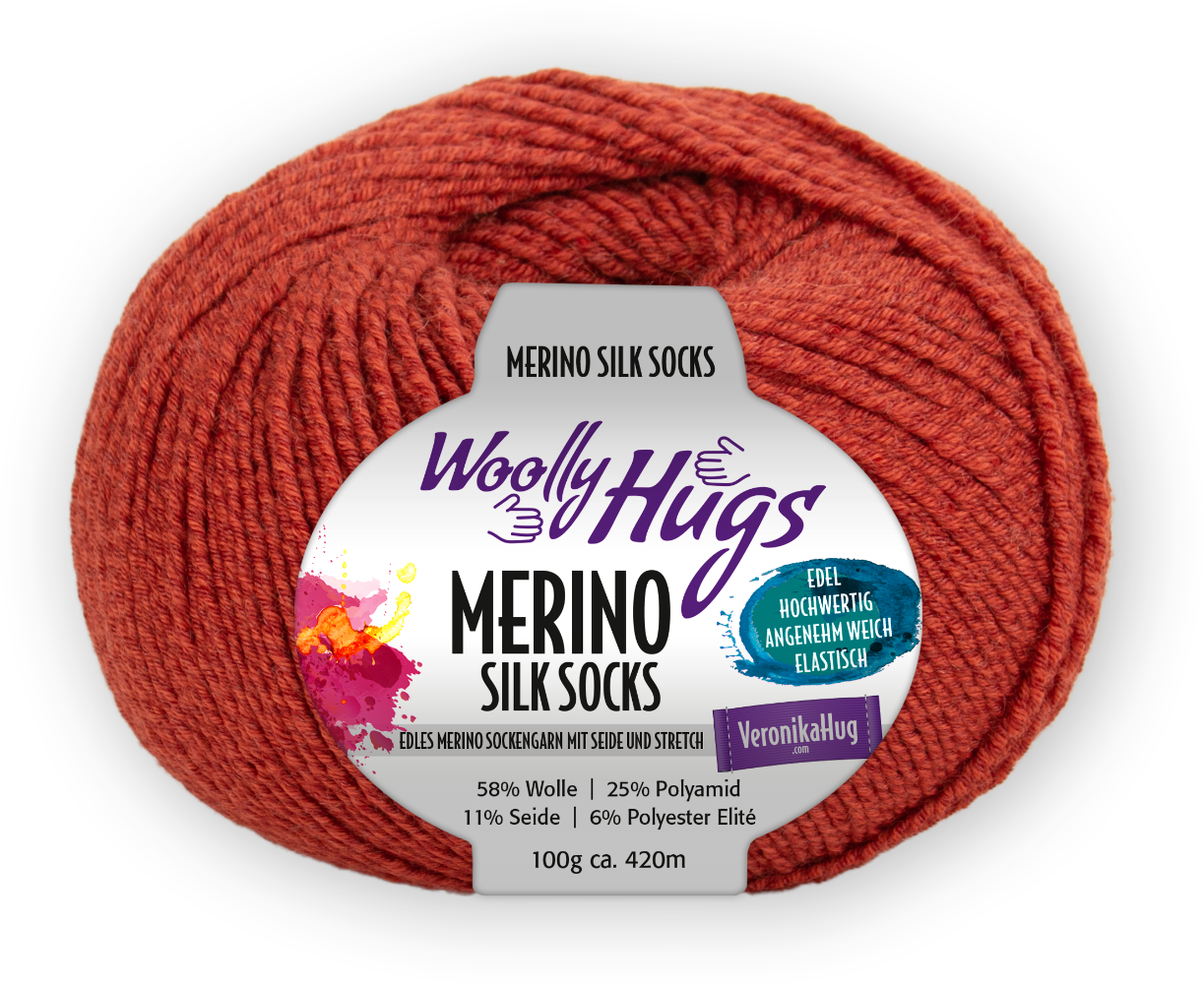 €11.95*
Content:
100 g
(€119.50* / 1000 gram)
€11.95*
Content:
100 g
(€119.50* / 1000 gram)
Product information "Merino Silk Socks Stretch, 4-fach von Woolly Hugs 0227 - ziegel"
Product number:

104-278853-0227

EAN:

4260714684644

Material: 58 % Schurwolle , 25 % Polyamid, 11 % Seide, 6 % Plyester Elité

---

Wolltyp: Merino
Nadelstärke

2,00 - 3,00 mm

Gewicht / Lauflänge:

100 g = 420 m

Verbrauch:

1 Paar Socken ca. 100 g

Maschenprobe:

29 M x 38 R = 10 x 10 cm

Pflege:

n H U D L
Edles Merino Sockengarn mit Seide und Stretchanteil - sehr weicher Griff und angenehm elastisch, passend zur Qualität Merino Stretch.
Properties "Merino Silk Socks Stretch, 4-fach von Woolly Hugs 0227 - ziegel"
Garnstärke:

1 : (2,25 - 3,25 mm) Super Fine / Fingering

Material:

Merino

, Polyamid

, Polyester Elité

, Schurwolle

, Seide

Saison:

Ganzjährig

, Herbst / Winter
Manufacturer "Woolly Hug's"
Seit 2015 hat Veronika Hug (bekannte Buchautorin und Designerin) ihre eigene Wollkollektion: Woolly Hugs! Grund der Namensgebung war ihr Nachname: HUG bedeutet im Englischen UMARMUNG…was liegt da näher, als die Marke "Wollige Umarmungen – also Woolly Hugs" zu nennen.
Related links of the manufacturer
---
Echte Bewertungen:
Alle Bewertungen mit dem Zusatz "Echte Produktbewertungen" wurden von unseren Kund*innen über ihr Benutzerkonto veranlasst. An dieser Stelle können Bewertungen nur zu tatsächlich gekauften Waren geschrieben werden.
Nicht entsprechend gekennzeichnete Bewertungen wurden direkt auf der Produktseite geschrieben. Es wurden keine Verifizierungsmaßnahmen ergriffen.
Pullunder Somedays
Häkeljacke Luxus
Loop und Mütze great olive
Strickjacke Highlight
Polopulli Sporty
Duo in hellblau Socken
Socken - Parade
Schal und Mütze Happy Berry
Set bestehend aus 5 Nadelspielen in verschiedenen Größen2.00mm (US 0)2.50mm (US 1.5)3.00mm (US 2.5)3.50mm (US 4)4.00mm (US 6)
Manufactured from superior stainless steel for a smooth knitting surface Inspirational words (Note: Words will be in German) on each needle, to enhance knitting peace and pleasure.